Car market MPV (Multi Purpose Vechile) is promising in Indonesia. No wonder it's so farm profit segment of the world's car manufacturers. In the midst of intense competition, manufacturers from Malaysia, Proton is quite managed to get a 'cake' of the MPV segment. Their hero the Exora can compete with cars made in Japan, Europe, Korea, and the United States.


Exora does have a variety of advantages that could be worth more to you who are looking for a family car at a bargain price. Before you unleash the power of cars from the neighbor country, it is good to see eskterior and interior design.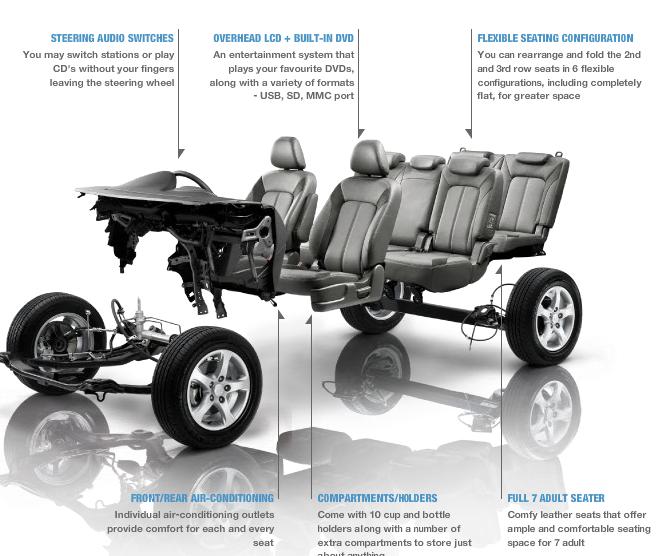 Executive Exora has a sporty design and elegant enough for a family car. Front grill has an attractive shape, plus fog lamps pinned. This car look like MPV modification because it has a low ground clerance aka flat. Aura sporty relying on the application of the thick front bumper side skirts and rear bumper spoiler. View more sweeter when he saw the cover spoin, alloy wheels, and aggressive style lamp design in the body Exora.


As I entered the cabin, the first impression is a relief to see Exora Executive, functional and feature rich. Color selection cabin with soft gray, and the use of dashboard and trim materials and workmanship fairly good details are neat.
Design interior panels, odometer and head unit is very user friendly. The audio system is a double DIN, features a CD player, radio and a USB connection. To watch a DVD, please open a rooftop monitor second row seat, which was equipped with a remote.


Exora Executive has embraced the system front seats with height adjusting feet, steering power steering and power windows and electric mirrors. Meanwhile, to support security, Proton Exora also has completed Executive with dual airbags and ABS brakes that has been equipped with EBD.
In addition, there are also semi leather seat upholstery bermaterikan. As a seven-passenger vehicle, three-row seating configurations Executive Proton quite comfortable and roomy. For long-distance travel, passengers in the second row and third legs do not need to bend excessively because the available leg room is quite spacious.
Passengers in the second row and the third also is equipped with double blower air conditioning.
Performance
Exora Star Campro CPS uses a gasoline engine 1.600cc, with power 125 hp and torque of 150 Nm. But unfortunately, while torque reaches 150 Nm, but the pull of the Exora does not bite. When stepped on the gas pedal spontaneous, as if the car is jerking, but after that, heavy power. But upon entering the upper middle rounds, out effort to re-fill. On the highway, Exora can be invited to run up to 150 km / h without any fuss.
Handling and Comfort
Interestingly this car possess stable handling. The proof, lightweight steering control and no symptoms giddy when bulldoze the bend with medium or high speed. Handling this is thanks to the development of cooperation Lotus. It can be seen from Lotus Ride & Handling logo at the back door Exora. Sound and vibration four-cylinder engine is actually fine, but the sound into the cabin when the engine speed is high. Thus interfere with the driver and passenger comfort. When passing contour bumpy road, the suspension pretty good swing. Although in the back was very hard.
Fuel Consumption
Fuel consumption is also fairly economical for cars with cylinder capacity of 1.6 liters. This car is drinking petrol 1 liter for a distance of 10.4 for use in the city, traffic jams and crowded smooth combination. With a tag of Rp183 million On The Road Jakarta, Proton Exora Executive A / T is face to face with tough competition from Japan, the Toyota Kijang Innova. Exora Proton became the largest contributor to sales in Indonesia. Throughout January to October 2012, the Exora has sold 1248 units. That means Exora become the best-selling Proton cars in Indonesia.